Data driven insights into the uncharted Enterprise Blockchain World & Data Economy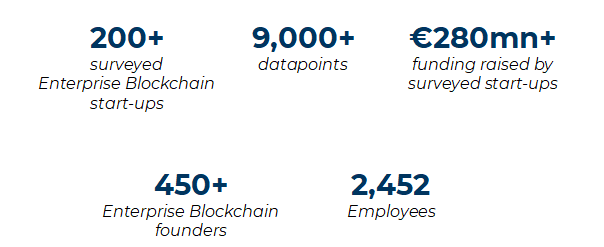 To access the full report, with all interviews, please click here.
A word from LeadBlock Partners
Re-imagining today's world
"We've entered into the era of the Data Economy. Similar to how the Internet reinvented the way we transact goods and services through e-commerce, Blockchain technologies will revitalize how we produce, own and consume data.
Blockchain is a catalyst to digital transformation, and now solves concrete industry challenges. It eases technologies' convergence (Big Data, AI/ML, IoT, Robotics etc.) and unlocks their full potential. It addresses current needs for economic sovereignty, transparency and sustainability.
Blockchain's decentralized & immutable nature has unprecedented potential to re-imagine today's world. This technology is a powerful tool to reshape how businesses are run, making them more equitable, and transparent.
Since its birth in 2009, Blockchain technology has matured, alongside entrepreneurs' ideas and ambitions. Its relevance has spread across industries, from Financial Services, to Healthcare, Energy, Food & Agriculture etc.
With this report, we hope to bring answers and more light to this disruptive technology and its ecosystem."
Key findings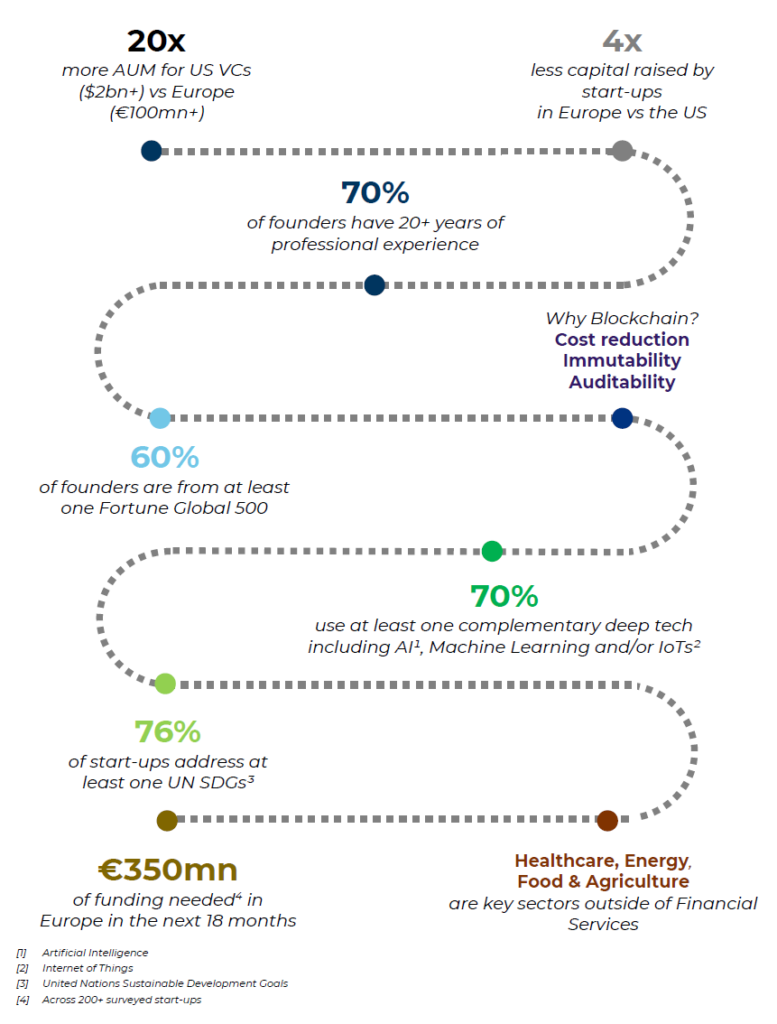 Source: LeadBlock Partners
LeadBlock Partners Enterprise Blockchain 2020
We're today at a tipping point for Enterprise Blockchain start-ups, fuelled by increased corporation digitalisation needs, a maturing ecosystem and a growing investment opportunity.
The US has historically led the way for Blockchain start-ups funding (4x more capital raised than in Europe), powered by specialised funds with 20x more AUM (Assets Under Management) relative to Europe.
Europe is now catching up with growing start-up funding needs, client traction and corporations interest. This investment opportunity will attract more capital and accelerate the growth of the European Enterprise Blockchain ecosystem.
The early stage Enterprise Blockchain ecosystem in Europe is growing:
In size, with 500+ new start-ups created each year, and with existing B2B start-ups turning to Blockchain to add value to their product offering
In quality, with more talented professionals with relevant industry and/or entrepreneurship experience. We found 70% of founders have 20+ years of experience, with 60% from Fortune Global 500 companies
In revenues, with an increased number of start-ups generating annual recurring revenues (20% of start-ups generate >€250k/year)
In funding needs, with the surveyed start-ups looking to raise €350mn in the next 18 months
Our survey confirmed that Blockchain is a highly strategic technology that should be seized across Europe:
Initially built to facilitate transactions, Blockchain has spread across sectors, with Financial Services, Healthcare, Energy and Food/ Agriculture leading the way
Blockchain is self-enforcing ESG initiatives, 76% of Enterprise Blockchain start-ups address at least one United Nations SDG
Why use Blockchain?
Top 3 reasons for founders are cost reduction, immutability, auditability
Because it unlocks the full value of complementary technologies: 70% of start-ups use Blockchain with AI, ML and/or IoTs
The tech has matured with rapid improvements in security and efficiency. Ethereum, Hyperledger and Corda emerge as the preferred protocols for Enterprise Blockchain founders
To access the full report, with all interviews, please click here.
About LeadBlock Partners
LeadBlock Partners is a venture capital fund investing in early stage B2B Blockchain start-ups. We focus on start-ups developing enterprise solutions to solve inefficiencies and digitization challenges across industries and create new markets. Our industry focus includes HealthTech, FoodTech, FinTech, PropTech, EnergTech. We provide financial and strategic support to startups in our investment portfolio.
Contact us at contact@leadblockpartners.com